29th Apr 2017 9:00 am at Mles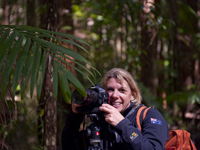 We are pleased to announce we will be in Miles for a two-day workshop.
We will explore tips and techniques suitable for beginners and into intermediate during this two day RADF funded in regional Queensland.
Topics covered will include: composition, aperture, shutter, ISO, the exposure triangle, exposure compensation – get those whites white and blacks black and – how to use a grey card, learn to read your histogram, white balance, the varied uses of a polariser, what is the basis for colour management and does it matter, flash basics including balancing on camera with natural light, diffusers plus an evening shoot and more.
Workshop notes provided by Dropbox to all participants.
Morning and afternoon tea refreshments supplied.
Date: 29 – 30 April 2017
Tutor: Danielle Lancaster
To book contact Kylie Bourne at the.bournies@bigpond.com
Limited numbers apply.
For more information
Tel: +61 7 5545 4777
Email: info@blue-dog.com.au
Do I need to have done the Bluedog Beginner workshop to attend?
No. We do ask you have an understanding of shutter, aperture and ISO and how the three work together and what they do. We are happy to discuss by phone if you are unsure.