11th Sep 2013 9:30 am at Coorparoo Brisbane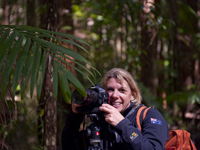 Do you know how to use your camera, but you're still not happy with the type of images you're getting? Do you find yourself stuck in a photographic rut or comfort zone? Are your images lacking something? If the answer is yet to any of these questions, it's time to time to put some creative punch (back) into your images.
Through a series of hands-on exercises and challenges you will improve your visual thinking – you will learn to see the familiar in a whole different way. With your already solid understanding of technique, you will focus on putting expression into your images.
During the course you will learn:
– the barriers to seeing and how to overcome them
– how to see how your camera sees
– how to abstract and use the visual elements of design
– the rules of composition – and how to creatively break them
– how to convey emotions in your images
The day ends with an image review and wrap-up session.
Workshop notes given to all participants.
Morning and afternoon tea refreshments supplied.
Price: $275.00
For more information or to reserve a place
Tel: +61 7 5545 4777
Email: info@blue-dog.com.au
Do I need to have done the Bluedog Beginner to attend?
No. We do ask you have an understanding of shutter, aperture and ISO and how the three work together and what they do. We are happy to discuss by phone if you are unsure.