25th Nov 2018 9:00 am at David Fleay Wildlife Park, Burleigh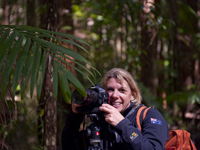 Bluedog Photography's one day Beginner Workshop is aimed to get you off Auto and to become a more creative photographer.
You receive a Bluedog Pack with all your notes from the day, a pocket-sized reference card and a Statement of Attendance.
Topics covered include:
Composition and how to make that image have punch; ISO, Shutter Speed, Aperture, focusing, how to store your digital files, RAW versus Jpeg, how to shoot long exposures for fireworks and lightning, on camera flash and when to use it, how to achieve an out of focus background, maximum depth of field for landscapes, and much more.
You will never use Auto again!
The workshop has three components:
1. PowerPoint presentations showing what you can achieve and how to achieve it
2. Understanding the dials and buttons on your camera
3. Hands on practical exercises – doing it yourself with guidance from your tutor/s.
Suitable for digital SLR, point and shoot and film cameras. SLR digital camera and tripods are available for hire – please advise us in advance if required.
Max of 6 per group. 9.00am-4.00pm.
Price $280.00
For more information or to reserve a place
Tel: 0428 715 310
Email: info@blue-dog.com.au
Location: Gold Coast
Other locations this workshop is held at:
Brisbane